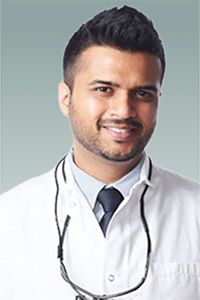 Dr. Desai obtained his Doctor of Dental Surgery from the esteemed New York University College of Dentistry. He then went on to pursue advanced education at Woodhull Medical Center/NYU in Brooklyn, New York. After practicing in Washington, DC, for six years Dr. Desai returned to Snellville, Georgia, to serve the area where he grew up and to be closer to his family. His wife and brother both are licensed dentist in GA. His wife recently obtained her Doctor of Dental Surgery degree from Virginia Commonwealth University in Richmond, VA. She practices dentistry in Gwinnett County. His brother, Dr. Jamie Desai, is currently completing his Pediatric Dentistry residency in Hawaii.
Dr. Desai believes in lifelong learning and staying up to date with new changes in dentistry. He has accumulated over 500 continuing education hours, way above minimal requirements to make sure his patients receive the highest standard of care.
With over 12 years of experience in clinical dentistry, Dr. Desai believes in developing long-term relationships with his patients and bettering their overall health and well-being. He offers his help with community programs such as Free Dental Day and Veterans Health Day, and he volunteers at Mission of Mercy programs. In his spare time, he enjoys riding bikes, concerts, traveling, playing guitar and table tennis.
Professional Memberships:
The American Dental Association®
The Georgia Dental Association
The International Congress of Oral Implantologists